WAN (Wide Area Network) definition
What is a WAN?
A wide area network (WAN) is a geographically dispersed telecommunications network. The term distinguishes a broader telecommunication structure from a local area network (LAN). A wide area network may be privately owned or rented, but the term usually connotes the inclusion of public (shared user) networks. An intermediate form of network in terms of geography is a metropolitan area network (MAN).
Download Now: Control Networks Without Borders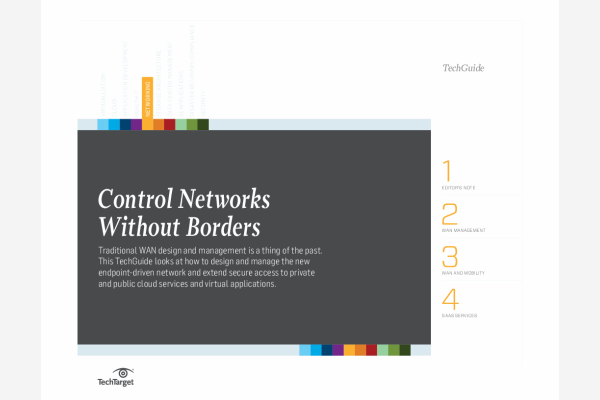 Experts weigh in on how you can design and manage the new endpoint-driven network, all while extending secure access to private and public cloud services and virtual applications.
By submitting your email address, you agree to receive emails regarding relevant topic offers from TechTarget and its partners. You can withdraw your consent at any time. Contact TechTarget at 275 Grove Street, Newton, MA.
You also agree that your personal information may be transferred and processed in the United States, and that you have read and agree to the Terms of Use and the Privacy Policy.

Continue Reading About WAN (Wide Area Network)