Definition
tunneling or port forwarding
Tunneling, also known as "port forwarding," is the transmission of data intended for use only within a private, usually corporate network through a public network in such a way that the routing nodes in the public network are unaware that the transmission is part of a private network. Tunneling is generally done by encapsulating the private network data and protocol information within the public network transmission units so that the private network protocol information appears to the public network as data. Tunneling allows the use of the Internet, which is a public network, to convey data on behalf of a private network.
Download Now: How to Get the Most Out of Your WAN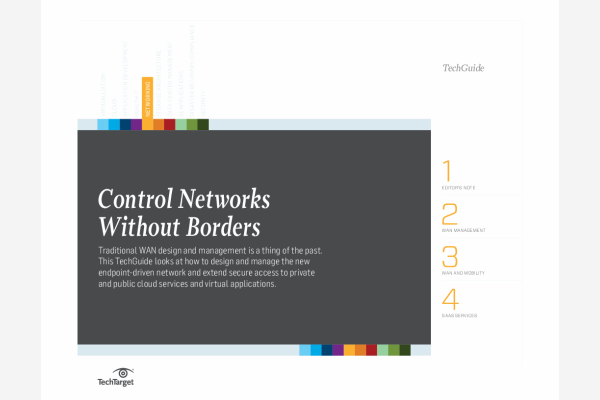 Mobile devices and teleworkers are forcing a shift in the WAN. Learn how you can design and manage this new network without borders, all while securing user access points and improving network performance.
By submitting your email address, you agree to receive emails regarding relevant topic offers from TechTarget and its partners. You can withdraw your consent at any time. Contact TechTarget at 275 Grove Street, Newton, MA.
You also agree that your personal information may be transferred and processed in the United States, and that you have read and agree to the Terms of Use and the Privacy Policy.

One approach to tunneling is the Point-to-Point Tunneling Protocol (PPTP) developed by Microsoft and several other companies. The PPTP keeps proprietary data reasonably secure, even though part of the path(s) between or among end users exists in public communication channels. The PPTP makes it possible for authorized users to gain access to a private network - called a virtual private network (VPN) -through an Internet service provider (ISP) or online service. Another commonly used tunneling protocol is generic routing encapsulation (GRE), developed by Cisco Systems. There are numerous, less common tunneling protocols.
Tunneling, and the use of a VPN, is not intended as a substitute for encryption/decryption. In cases where a high level of security is necessary, the strongest possible encryption should be used within the VPN itself, and tunneling should serve only as a convenience.
This was first published in
May 2007
Continue Reading About tunneling or port forwarding
Dig Deeper on Cloud computing and SaaS