virtual routing and forwarding (VRF) definition
Virtual routing and forwarding (VRF) is a technology included in IP (Internet Protocol) network routers that allows multiple instances of a routing table to exist in a router and work simultaneously. This increases functionality by allowing network paths to be segmented without using multiple devices. Because traffic is automatically segregated, VRF also increases network security and can eliminate the need for encryption and authentication. Internet service providers (ISPs) often take advantage of VRF to create separate virtual private networks (VPNs) for customers; thus the technology is also referred to as VPN routing and forwarding.
Download Now: Control Networks Without Borders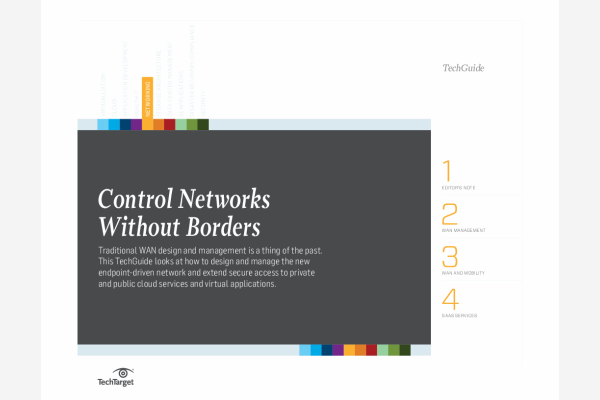 Experts weigh in on how you can design and manage the new endpoint-driven network, all while extending secure access to private and public cloud services and virtual applications.
By submitting your email address, you agree to receive emails regarding relevant topic offers from TechTarget and its partners. You can withdraw your consent at any time. Contact TechTarget at 275 Grove Street, Newton, MA.
You also agree that your personal information may be transferred and processed in the United States, and that you have read and agree to the Terms of Use and the Privacy Policy.

VRF acts like a logical router, but while a logical router may include many routing tables, a VRF instance uses only a single routing table. In addition, VRF requires a forwarding table that designates the next hop for each data packet, a list of devices that may be called upon to forward the packet, and a set of rules and routing protocols that govern how the packet is forwarded. These tables prevent traffic from being forwarded outside a specific VRF path and also keep out traffic that should remain outside the VRF path.
Continue Reading About virtual routing and forwarding (VRF)
Dig Deeper on Cloud computing and SaaS