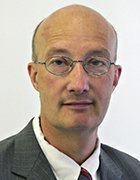 Rainer Enders, VPN expert
Rainer Enders is CTO of Americas for NCP engineering, a secure remote access and VPN solution provider. He has over 20 years of experience in the networking and security industry. His other areas of expertise are test automation in quality assurance and the testing and verification of complex network and system architectures. Prior to joining NCP in January 2010, Rainer headed his own strategic consulting firm, Rainer Enders Consulting Enterprises, which focused on computer network security and storage networking. Before that, he held a variety of technical roles at Identity Engines, NeoScale Systems, Yipes Enterprise Services and Ericsson.

Email your VPN-related questions to editor@searchenterprisewan.com.

Do you have a question for our experts?