After defining network requirements and service-level agreements (SLAs) for each type of branch office in an organization, wide area network (WAN) managers can map technologies to appropriate network tiers to identify the best WAN technology for corporate remote offices. Which WAN technology best meets your needs? Find out in Chapter 3 of the e-book Simplifying Branch Office Management. Continue reading Chapter 3 below, or skip to the other chapters using the table of contents below:
Table of contents
Chapter 1: Branch IT management: Defining remote office structure
Chapter 2: The best remote management technology for WAN managers
Chapter 3: Mapping WAN technology to branch office network tiers
Now that we've discussed technology options, the next step is to map the technologies to tiers (see Figure 1). The value of different technologies varies from one tier to another. As noted in Figure 1, all-in-one devices and remote monitoring increase in value the smaller the branch; small branch offices typically lack in-house IT and have lower bandwidth. High-bandwidth tiers get less value from all-in-one devices, whose performance can become a limiting factor at higher bandwidths. Also, larger branches have more diverse security needs, often requiring features not available in all-in-one devices.
Figure 1: Mapping technology to branch tiers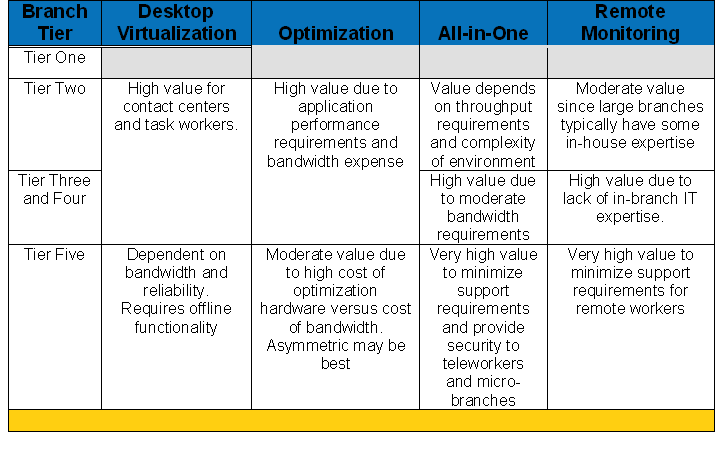 Source: Nemertes Research
Click image to enlarge.
Optimization appliances provide the greatest value for middle tiers (three and four), which have the same application performance requirements as large branches but less available bandwidth. For teleworkers and small branches, the best choice of optimization is usually to use soft clients rather than install a device at every small branch office and teleworker location.
Organizations need to create a clear and consistent branch IT strategy revolving around defined governance and decision making.

Ted Ritter, Nemertes Research Senior Analyst
Desktop virtualization is an interesting opportunity for the IT branch manager. Mid-tier operations are the sweet spot for desktop virtualization because these sites have consistent application requirements along with reliable bandwidth. Desktop virtualization provides high value for small branches and teleworkers, but bandwidth reliability is the critical issue. If bandwidth is unreliable, then the desktop experience will be unreliable. For this reason, small branch office and teleworker locations require a case-by-case evaluation.
To face the challenges presented by high growth rates, continual pressure to support new applications, and increasing teleworking, organizations need to create a clear and consistent branch IT strategy. Strategies should revolve around defined governance and decision making, branch office classification, service standardization and centralization, and selective use of appropriate technologies for optimization and management of service delivery to meet SLAs.
Visit Bitpipe.com to download the PDF of the full e-book: Simplifying Branch Office Management, or for more information, read these resources on branch office network design.
This was first published in September 2010