Businesses using Voice over IP (
VoIP
) know the importance of good call quality. To achieve quality voice services over the great distances of a wide area network (
WAN
), IT engineers must know how to architect a WAN for voice traffic; how much bandwidth is needed; and what WAN optimization solutions can further optimize voice, since typical WAN compression techniques can sometimes degrade VoIP performance. This VoIP over WAN tutorial helps IT pros deploy VoIP successfully across an enterprise WAN.
VoIP over WAN network requirements
Deploying VoIP across WANs is different than rolling out a non-real-time application, like email. The good news is that you can deliver good voice quality by choosing the right voice over WAN technology, configuring your WAN properly and implementing good system management. As you design your wide area network to support VoIP, it would behoove you to consider a WAN monitoring tool for unified communication analysis and look into Voice over IPv6 to future-proof your WAN.

Learn the steps you need to take before deploying VoIP over WANs in this article.
More resources on WAN requirements for VoIP:
VoIP over WAN bandwidth requirements
The question of calculating bandwidth for voice traffic is answered by analyzing your company's current voice calls and forecasting your future VoIP call patterns and volumes. In all cases, your company will benefit from WAN capacity planning before deploying VoIP over WANs. Some enterprises may want to consider using a WAN emulator to avoid surprises with their VoIP deployment.

In most cases, an organization will need to upgrade their WAN links for converged voice traffic. To learn how much bandwidth is needed for VoIP, read this tip on how to rightsize your WAN for voice traffic.
More resources on VoIP and bandwidth:
Educate your end users about VoIP
IT professionals should spend some time educating end users about how to use implemented VoIP services. Let users know what kind of application response times and voice quality to expect. Proper training can calm down angry users and inform clueless ones. Avoid reenacting the IT Guy comic strip below!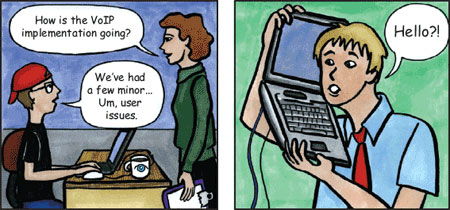 Align SIP trunking services with WAN services
When considering a VoIP deployment over a WAN, IT professionals may want to look at Session Initiation Protocol (SIP) trunking -- which is a VoIP service that facilitates the connection of a private branch exchange (PBX) to the Internet. As SIP trunking adoption grows, more enterprises are aligning the technology with their WAN strategies to maximize the benefits of both. Aligning strategies reduces local loop requirements and enables one-hop access to the public switched telephone network (PSTN). But to realize those benefits, enterprises must also address the challenges of coupling SIP trunking with WAN services.

This tip outlines the challenges and benefits of aligning WAN and SIP trunking services.
More resources on SIP trunking and WAN services:
Optimizing VoIP over WANs
Even if you have enough WAN bandwidth, VoIP requires QoS. Classifying WAN traffic and verifying quality of service (QoS) are part of the WAN design requirements for QoS. In addition to QoS, some circumstances might require certain WAN bandwidth optimization techniques. IT pros can map critical applications, like VoIP, to proper WAN application acceleration techniques by carefully evaluating their options.

Learn how to optimize voice over WANs in this article.
More resources on optimizing VoIP over WANs: