What you need to set a global MPLS network architecture
When searching for a global MPLS provider, make sure business requirements align with network requirements. The first of a three-part series.
Editor's note: In this three-part series, Robert Sturt discusses the steps enterprises need to take when assessing a global MPLS network procurement strategy. The series examines the importance of devising a strong business case before talking to prospective providers. In part one, Sturt lays the groundwork and talks about MPLS reach and diversity. The author has also made available his free A3 Mindmap, which provides a step-by-step...
Continue Reading This Article
Enjoy this article as well as all of our content, including E-Guides, news, tips and more.
By submitting you agree to receive email communications from TechTarget and its partners. Privacy Policy Terms of Use.

guided approach to global MPLS network procurement.
The wide area network (WAN) is not a single entity; it has dozens of moving parts, all of which must be considered when designing a customized multiprotocol label switching (MPLS) network architecture. To make sure you're successful in your approach, it's important to understand how each specific part of your business aligns with the overall capability of your WAN infrastructure. As with any complex procurement project, a diagnostic approach, which aligns business with technology, is required to ensure a successful outcome.
Never view any network as separate
The key is that no network -- regardless of its role -- should be viewed as a silo. Yet within a majority of enterprises, IT operates exactly like that. The result is often just another "IT solution" that meets a need at that particular moment in time but not the needs required by the wider business in the future. When we view IT as a collective and create MPLS network services based on the specifics of a given business, the result is a capability and not just another solution. This approach is critical for global organizations with complex supply chains.
MPLS network reach is often over-hyped by service providers when they position their global MPLS capability.
The challenges associated with global MPLS procurement differ from a national deployment. In general, within most national geographic boundaries, application performance is predictable. By contrast, applications within a global deployment may be seriously affected by a provider unable to meet key application requirements for latency and packet throughput at certain locations. This is in part due to the laws of physics over large distances but also because not all networks are engineered equally. As organizations become more mobile and ubiquitous cloud access becomes more critical, predictable performance is more important than ever. In order for IT managers to understand whether prospective global MPLS providers possess the capability to meet their specific application performance requirements, understanding network reach is critically important.
MPLS network architecture reach and diversity
When discussing diversity, it is important to understand some of the terminology and steps required to take your office site to the provider's edge network.
MPLS network reach is often over-hyped by service providers when they position their global MPLS capability. The element to focus on is the provider edge (PE). The PE is the entry point into the provider's MPLS backbone and, therefore, the distance between your office and the PE represents delay. As a rule of thumb, the longer the distance, the greater the impact of higher latency and the greater the danger of reduced quality for delay-sensitive applications such as voice and video. When soliciting the services of your prospective global providers, ask to see a clear indication of their PE devices on a global basis. And be sure to understand which partners they are using to deliver their connectivity.
The prospective supplier will provide latency guidelines but these figures will be based on its core network and not the actual distance between the network and your site, that is, the tail circuit. This is important: The additional latency may, for example, be enough to push voice performance over the edge between a U.S. and European office.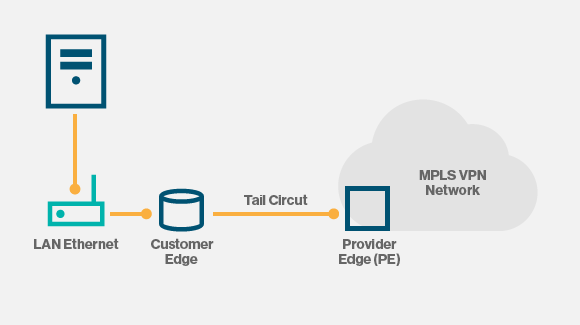 The quality of any tail circuit is a fundamental consideration. In addition to fiber, the various methods of delivering tail connectivity include radio and network-to-network interface (NNI) agreements. Radio-based tail performance is often hit or miss over the long term and may be restricted in performance by factors such as the weather.
At the same time, any MPLS network services that use NNI connectivity -- in order to offset the lack of point-of-presence locations -- must be carefully assessed to understand whether or not the NNI will affect application performance. What's more, these performance impacts might also affect your end-to-end Quality of Service (QoS) if the NNI provider doesn't prioritize your traffic as promised.
Ultimately, the customer wants to get good -- and secure -- performance from whatever device and in whatever location that device happens to be. Of course, some elements of the connectivity cannot be controlled; for example, an employee might be working from a hotel where the network suffers from poor performance.
Whenever these types of situations occur, establish guidelines to govern how elements beyond your control are factored in.
Last, but not least, as part of creating your MPLS network capability, you will almost certainly be required to deliver maximum uptime for selected sites. The MPLS PE availability will dictate where your circuits are able to terminate and the level of resilience available to your network. In order to create maximum uptime, build a design that includes two geographically separated PE nodes. Global MPLS nodes are not as numerous as they are across national MPLS networks.
Part two of this series will examine QoS and other factors you'll need to consider when selecting a global MPLS provider.
Dig deeper on Selecting telecommunications services and providers
Robert Sturt asks:

What is the most crucial consideration you take into account when assessing a global MPLS network provider?